Event Info
Dan and Phil present their new stage show - Interactive Introverts. Get ready for two internet dwelling, insecure nerds standing under the spotlight to give the people what they want: an epic interactive experience of rants, roasts, battles, stories ... and surprises that will make you laugh, cry and cringe!
Daniel Howell and Phil Lester are two of the world's biggest YouTube stars. From producing their own comedy videos, they 've gone on to present a Radio Academy Award winning show for BBC Radio 1, host international coverage of the BRIT Awards, release an app game 'The 7 Second Challenge' that reached #1 on the iTunes store, and in 2017 release the hit board game 'Truth Bombs'. In 2015, Dan and Phil launched a book and accompanying 75-date "The Amazing Tour Is Not on Fire" Tour. The book went to #1 on The Sunday Times and New York Times Bestseller lists and the tour became the biggest world tour ever undertaken by YouTube creators ...until now.
A limited number of VIP tickets are available including a seat for the show in the first few rows closest to the stage, access to a meet-n-greet with Dan and Phil and exclusive gifts. VIPs will meet Dan and Phil and have the opportunity to have one item signed and take a selfie. Please bring your own camera or phone. Fans under age 14 must be accompanied by an adult.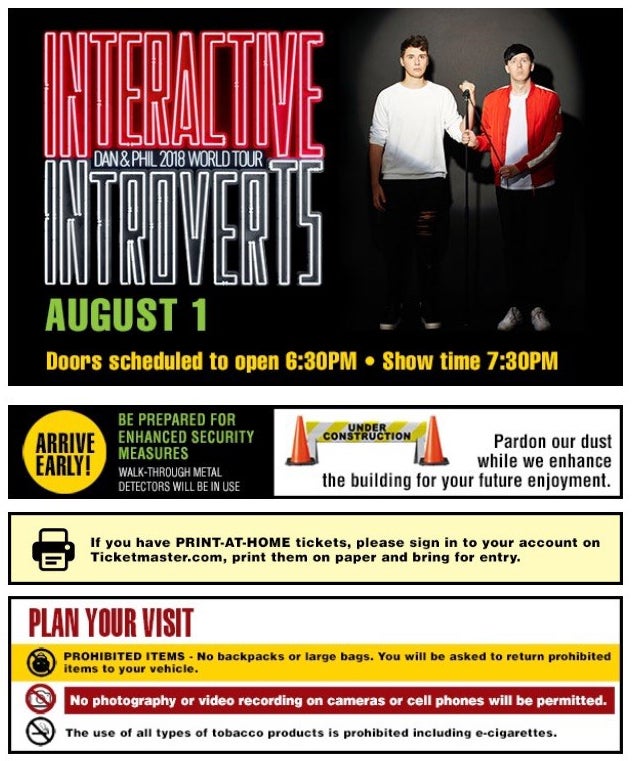 TICKET INFORMATION
Tickets for most events may be purchased at the Schottenstein Center Ticket Office or online at ticketmaster.com.