U.S. Classic - Gymnastics
Event Info
World, Olympic, U.S. champions expected to compete at 2018 GK U.S. Classic
The senior field for the 2018 GK U.S. Classic scheduled for July 28 will feature several World, Olympic and U.S. champions and medalists. Expected to compete are reigning World all-around champion Morgan Hurd of Middletown, Del. /First State Gymnastics, Olympic all-around champion Simone Biles of Spring, Texas/World Champions Centre, and U.S. all-around champion and 2016 Olympic alternate Ragan Smith of Lewisville, Texas/Texas Dreams Gymnastics, along with 2017 World vault and floor exercise silver-medalist Jade Carey of Phoenix, Ariz. /Arizona Sunrays. The GK U.S. Classic is the last opportunity for female gymnasts to qualify for the 2018 U.S. Championships, the national championships for men's and women's gymnastics. Gymnasts who have already qualified to nationals use the GK U.S. Classic as a final tune-up for the U.S. Gymnastics Championships.
The Hopes Championships features young, aspiring female gymnasts just below the elite level: 10-11 year-olds and 12-13 year-olds - the culmination of the Hopes season.
The competition schedule (subject to change)
July 28 at 1:30PM for juniors and 7:30PM for seniors - U.S. Classic"
July 27 at 2:30PM – Hopes Championships
CLICK HERE for to see the FIELD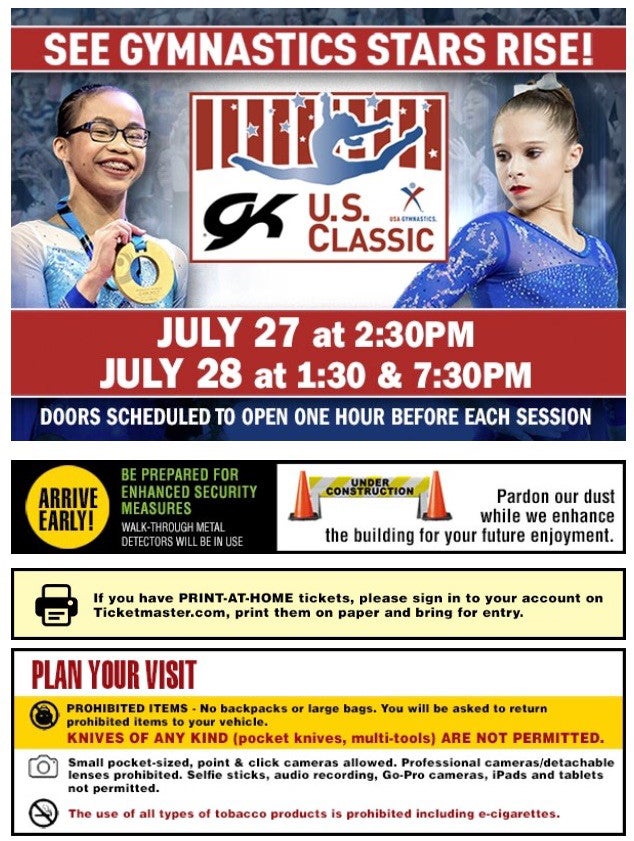 Ticket Information
Tickets are available through Ticketmaster Charge-By-Phone (1-800-745-3000), ticketmaster.com OR at the Schottenstein Center Ticket Office until the start of the event.