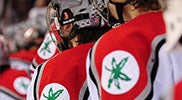 Men's Hockey
CLICK HERE for Men's Hockey Ticket INFO
CLICK HERE for a Men's Ice Hockey Parking MAP
CLICK HERE for Disabilities Needs Form
Ground was broken April 2, 1996, for The Jerome Schottenstein Center - a commitment to excellence by The Ohio State University Department of Athletics to state of the art facilities for student-athletes, coaches and fans. The "Schott" opened its doors November 3, 1998, for a Men's basketball game. The Schottenstein Center is the home of the Buckeyes - the Ohio State Men's and Women's Basketball teams and Men's Ice Hockey. The 770,000 square foot multipurpose venue seats 17,500 for hockey, 19,500 for basketball and up to 20,000+ for concerts. It is the largest arena in the Big Ten.
A unique feature of the Center is the six terrazzo floorscapes. The hockey terrazzo located in the NW rotunda is the only floorscape that faces outward. The stick and puck extend down the hallway. The player's face is Benji Wolke (1998), the stick depicted belongs to Perry Pooley (1984 All-American and 1984 Academic All-American) and the body is a composite of players from the 1980-1982 teams.
Men's Ice Hockey became a varsity sport in 1963-1964; it advanced to the NCAA Frozen Four in 1998. The 2013-2014 season was the first for BIG 10 hockey with the Buckeyes now eligible to play for a BIG 10 championship.
3 ½ hours... approximately how long it takes to convert from basketball to hockey; 4 ½ hours ...approximately how long it takes to be converted from hockey to basketball
How ice is made … The cement floor houses 12 miles of pipes, enabling a crew to make an ice rink. The ice takes 3 full days to build by spraying thin layers of water. It takes over 40 layers to make ¾" of ice. The final ¼" is built using the Zamboni. After about 6 layers of ice, white tempura powder is mixed in followed by two more layers of water. A template is used to chalk the logo and hockey markings which are hand painted. The paint never dries--it just freezes and the ice is built up to its final thickness of 1". The ice sheet is covered with 4'x4' polar floor for special events. The ice is usually left in for the entire hockey season--October through March except for Monster Trucks and the Ohio High School Athletic Association Wrestling Championships. For basketball, the polar floor is covered by 4'x8' hardwood pieces that hook together like a giant puzzle. Removing the ice takes approximately two days. The floor is heated until the ice begins to melt, then Bobcats are used to chop up the ice.
1-800-745-3000
614-688-3939