Ariana Grande
with Normani and Social House
Event Info
Ariana Grande will bring her The Sweetener World Tour to the Schottenstein Center on July 1st. Normani and Social House will open.
PLEASE NOTE that show time has changed from 7:30PM to 8PM.
Tickets for the originally scheduled Spring concert will be honored on the NEW date. Refunds available from point of purchase.
Per the tour:To provide the best experience for fans
NO Cameras or Recording Devices (cell phones with cameras are permitted).
Each fan may have one bag. All bags must be 100% clear. Bags must be made of Clear plastic, vinyl, or PVC. They may not exceed 12"x6"x12"or a one gallon re-sealable clear freezer bag (Ziploc bag or similar).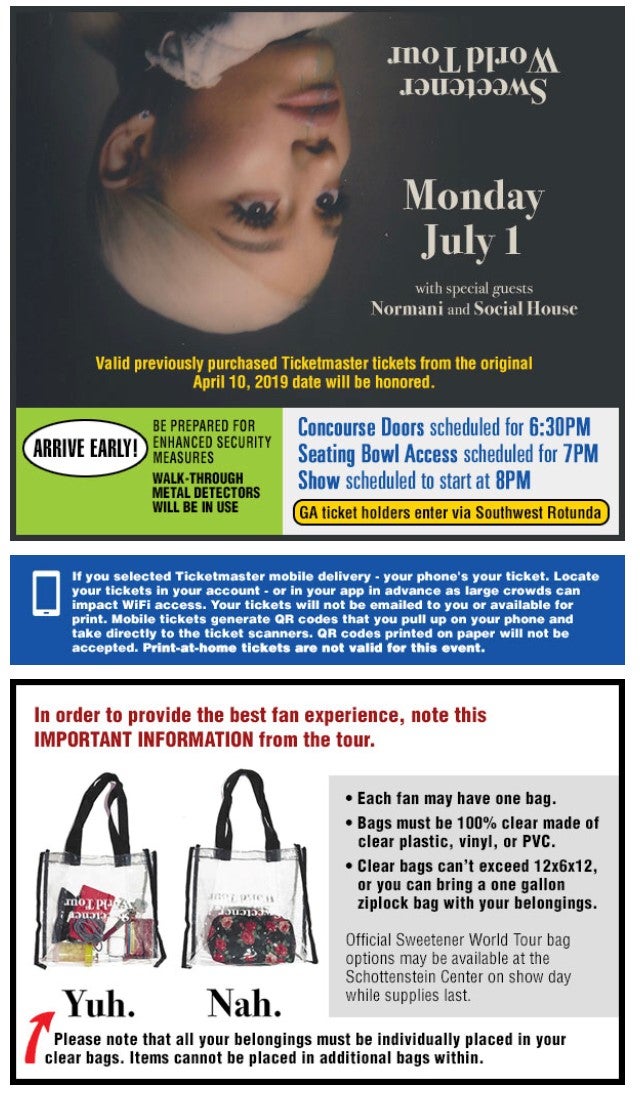 TICKET INFORMATION
We are partnering with Ticketmaster to address fan questions regarding the cancellation and rescheduling of events.
Visit the TICKETMASTER HELP CENTER for details. Check back regularly for information and status updates.
The Schottenstein Center Ticket Office is temporarily closed. If you purchased at the Ticket Office via cash or credit card and are seeking a refund - CLICK HERE FOR MORE INFORMATION.