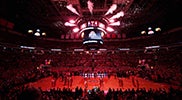 Men's Basketball
CLICK HERE for Men's Basketball Ticket INFO
CLICK HERE for Men's Basketball Parking MAP
CLICK HERE for Disabilities Needs Form
Ground was broken April 2, 1996, for The Jerome Schottenstein Center - a commitment to excellence by The Ohio State University Department of Athletics to state of the art facilities for student-athletes, coaches and fans. The "Schott" opened its doors November 3, 1998, for a Men's basketball game. The Schottenstein Center is the home of the Buckeyes - the Ohio State Men's and Women's Basketball teams and Men's Ice Hockey. The 770,000 square foot multipurpose venue seats 17,500 for hockey, 19,500 for basketball and up to 20,000+ for concerts. It is the largest arena in the Big Ten.
Unique to the Center are the six terrazzo floorscapes. The John Havelicek floorscape in the SW rotunda features the only non-scarlet and gray (blue) terrazzo on the opponent's jersey. The basketball in Havlicek's hand is over 13 feet in diameter. A starter from 1960-1962, Havelicek accumulated a record of 78-6, played in three-consecutive Final Fours, the 1960 National Championship team and was a 1962 All-American. After his Ohio State career, he played for the Boston Celtics and was named to the NBA Hall of Fame.
3 ½ hours... approximately how long it takes to convert from basketball to hockey; 4 ½ hours ... approximately how long it takes to be converted from hockey to basketball
225...number of 4' x 8' wooden floor pieces in the Buckeye's home court
Interesting specs … showerheads in the Buckeye Basketball locker rooms are 9.5 feet high.
One of the designers of the Schottenstein Center Curt Moody (Moody/Nolan Ltd.), was a walk-on OSU basketball player, lettering in 1971, '72 and '73.
1-800-745-3000
614-688-3939