Accessibility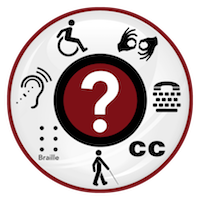 Accessibility is an ongoing commitment. The Schottenstein Center strives to provide exceptional service to all guests including those with special needs. The venue meets or exceeds accommodations in compliance with ADA and Ohio mandates.
CLICK HERE for details on buying accessible tickets via ticketmaster.
Access to Tickets

Accessible/ disabled seating is available on all levels of the arena and at all price levels. Tickets are available for purchase through the Center Ticket Office or Ticketmaster. When ordering accessible tickets, it is important to indicate that you require accessible seating so you can be properly seated.

CLICK HERE for details on buying accessible tickets via ticketmaster.

Wheelchair Companion Seating

Guests purchasing companion seats may purchase up to three additional seats in the same row with the accessible seat or as close as possible when those seats are not available. Additional seats may be purchased in the nearest available seating section based on availability. This policy may be adjusted when there is high demand. Tickets are sold on a first-come, first served basis and there is no guarantee that companion tickets will be available.

Wheelchair Escorts

Complimentary wheelchair escorts are available at any entry point. Upon your arrival to the arena, ask any of our uniformed staff and they will call for an escort. You do not need to make arrangements prior to your event. They will escort you as close as possible to your seat and will make arrangements to pick you up after the event. Please be aware that our escort staff will not remain with you during the event, nor will they allow you to remain in our wheelchair for the duration of the event. Guest Attendants will assist guests who wish to transfer to a seat from their personal wheelchair with storing of their wheelchair during the show.

Tickets for Guests with Visual or Hearing Impairments

Tickets are available for purchase (unless not permitted by the tour) through the Center Ticket Office, TDD 614-292-6374 or Ticketmaster. Please indicate the need for visually-impaired or hearing-impaired seating to the ticket seller.

Assisted Listening Devices

Headsets and receivers for our multi-channel LPB Radio-Aide are available for most events free of charge at Guest Services located at Section 127 on the entry level. Guests will be required to leave valid identification such as a driver's license as collateral.

Interpreters

Interpreting service is provided free of charge. To confirm interpreter availability, please contact us at least three weeks prior to the event and if possible, prior to purchasing tickets.

Complete the Disability Needs Request form HERE.

Ticket Exchanges

Exchanges can be made to accommodate guests with disabilities. If a guest with a disability needs to exchange a conventional seat ticket for a ticket in an accessible area, the Schottenstein Center will make every effort to provide new tickets in the closest comparable accessible seating location. We encourage guests needing to make an exchange to do so prior to the event by contacting the Ticket Office during normal business hours at (800) GO-BUCKS.

If you are unable to make the exchange in person, please contact Guest Services prior to the event to make arrangements or during the event at the Main Guest Services desk at Section 127. Event day ADA ticket exchanges are based on seat availability on a "first come, first served" basis.

Animal Policy

Service Animals as defined by the ADA are the only animals permitted in the Schottenstein Center. Guests with special seating or other accommodation needs are encouraged to contact the Guest Services Department prior to your visit at 614-688-3939.

Parking

Disability Parking is located in the Scarlet Lots along Borror Drive, adjacent to The Schottenstein Center. You must display a state-issued disability-parking hangtag*.

We exceed ADA standards in the terms of the number of accessible parking spaces.

We understand proximity is a key to a positive experience with parking, so plan to arrive early. If Scarlet Lot spaces fill, additional ADA spaces in the Buckeye Lots off Ackerman Road may be available. A dedicated wheelchair accessible shuttle will bring you directly to and from the arena doors. When Buckeye Lot shuttles are operating, the ADA shuttle will run 2 hours prior to the event until 30 minutes after the event concludes.

You may be dropped off or picked up on Borror Drive. Let the police officer or Traffic team know that you would like to make a drop off, and we will direct you.

Parking rates vary per event so be sure to check the website event page a few days prior to the event. All lots are cashless (credit/ debit cards and smartphone payments) are accepted. Parking lots open 2 hours prior to the event's door opening time.

*A current state issued disability placard (from any state), along with registration, and the person who owns the placard must be in the vehicle to enter the disability parking lots.

Restrooms

All restrooms facilities at the Schottenstein Center are accessible. In addition, we have an available family/unisex restroom on the entry level across from section 124, convenient for disabled guests with opposite gender aides/companions or who need a bit more room.

Elevators / Escalators

The Schottenstein Center is equipped with elevators that access all public areas of the arena. If you require special assistance in reaching your seat, please contact Guest Services in advance or ask any Guest attendant during the event. Passenger elevators are located near seating sections 104, 118 & 127.

TTY/TDD Service

All guests, including those with disabilities, are welcome and encouraged to contact the Guest Services department via e-mail. Guests may also call Relay Ohio at 711 or their local TTY Relay Center. The Ohio or local Relay Center will then place the call to us and we will be happy to communicate through the relay service.

Wellness Room/ Nursing Mothers 

Wellness Room/ Nursing Mothers

A dedicated private Wellness Room for nursing mothers is available at Section 104 on the Entry Level Concourse. Amenities include a refrigerator, microwave, sink, baby changing table and a television. Supplies are also available should you forget to bring a necessity. Ask a uniformed Guest Services Team Member about access.
Access for our guests with disabilities is an ongoing commitment. If you need more information OR wish to request specific accommodations, please complete this Disability Needs Request Form or contact us below. Early requests are encouraged. Depending on your needs, a minimum of two weeks' notice will best allow us to accommodate your request.

Schottenstein Center
Jeremy Tipton
Guest Services Manager
tipton.28@osu.edu
tel: 614-247-9506

The Ohio State University
Scott Lissner
University ADA Coordinator
Voice/TDD: (614) 292-6207